KIKUSUI JUNMAI GINJO
KIKUSUI'S NO.1 SELLING JUNMAI GINJO - CHRYSANTHEMUM MIST
This Junmai Ginjo is the most popular sake loved by many people in America. No other sake can offer the same experience as the Kikusui Junmai Ginjo. It is fun and enjoyable sake to drink at any occasions.
Extremely Clean and Crisp.
EXTREMELY CLEAN & SMOOTH
This is a light and comfortably dry premium Sake with the aroma of fresh cantaloupe and banana followed by medium body with refreshing Mandarin orange like overtones. With just the right amount of body and a comfortable dryness it enhances any dish you eat. This is a great white wine alternative that is perfect for Sake lovers and beginners alike.
[ Characteristics ]
●Sake Type / Junmai Ginjo ●Alcohol Contents / 15% ●Milling Rate / 55% ●Volume / 300ml,720ml,1800ml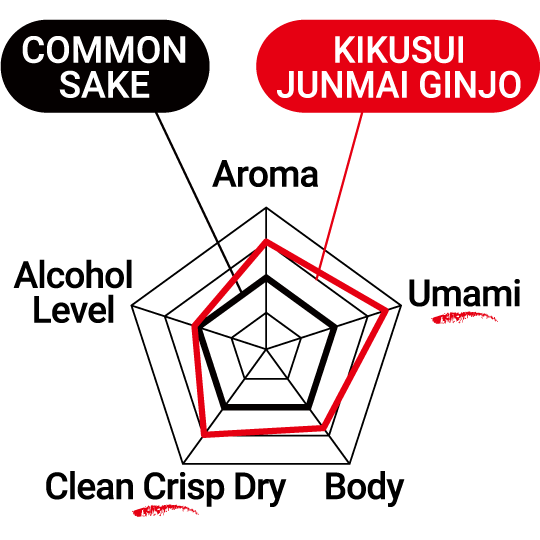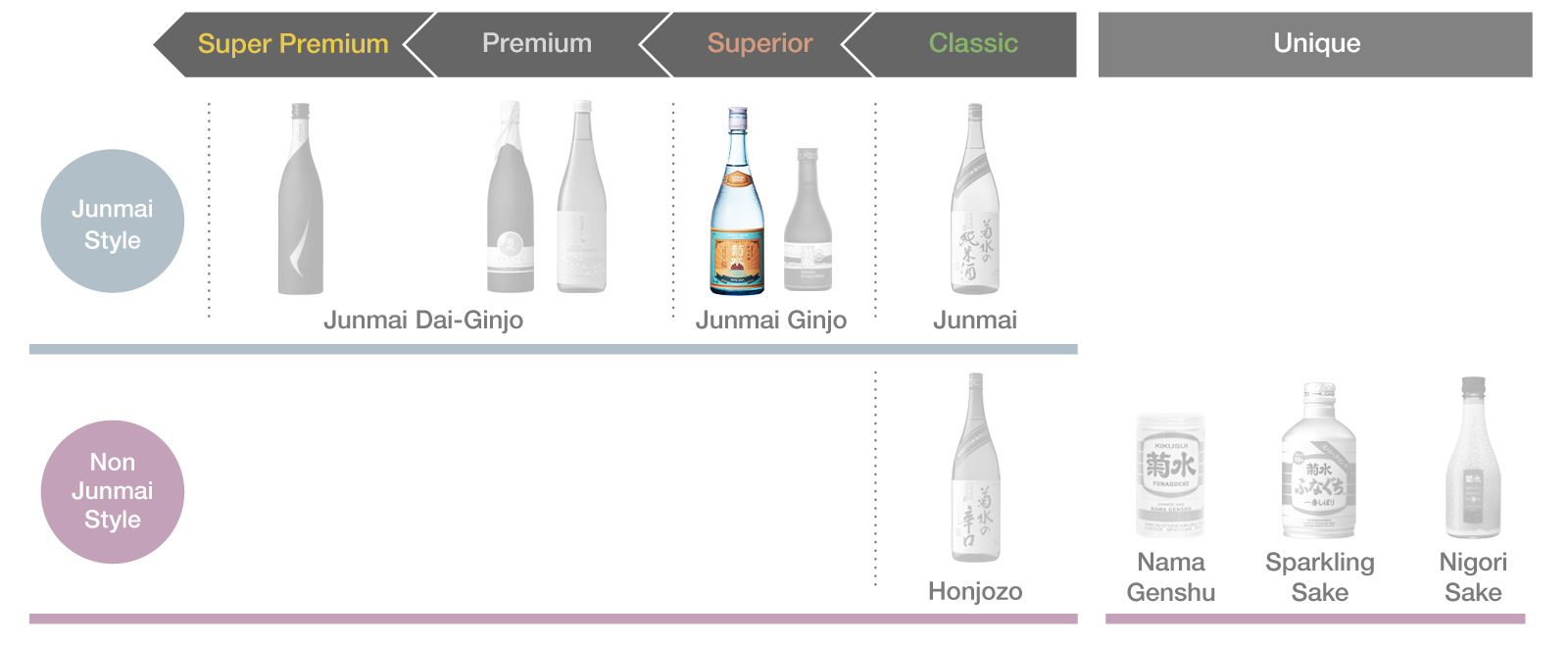 [Serving Suggestions]

KIKUSUI JUNMAI GINJO EXPANDING ENJOYMENT WITH CROSS BORDER CUISINE FOOD PAIRINGS BEYOND JAPANESE FLAVOR TO COMPLEMENT A VARIETY OF DISHES
KIKUSUI JUNMAI GINJO offers an abundance of aroma, and a medium-bodied, refreshing taste.
This well balanced Junmai Ginjo Sake opens to a variety of food pairing possibilities, and draws the best out of the foods it's served with.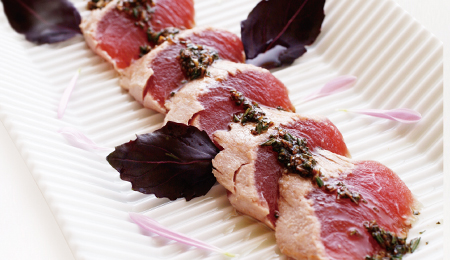 JAPANESE
Naturally, there're no misses with most Japanese foods.
The elegant Sake unlocks the hidden flavors locked in the foods, for a full drinking & dining enjoyment.
JAPANESE-STYLE TUNA TAGLIATA
<two servings>
Prepare dressing by mixing: ½ teaspoon balsamic vinegar, 3-1/2 Tablespoons olive oil, ½ sprig fresh rosemary minced, ½ clove fresh garlic minced. Pat dry, and lightly salt a 5-oz piece of Sashimi-grade tuna. Heat pan, add a bit of olive oil, and add tuna to quickly sear over high heat. Remove and when cool, slice on the diagonal into1/3" slices. Arrange on plate, drizzle dressing, and serve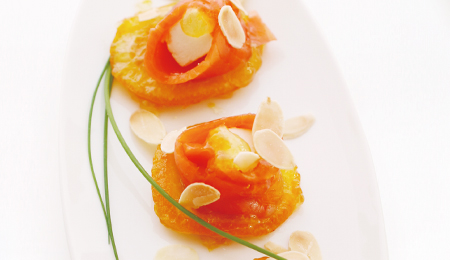 WESTERN
It's not a secret that Kikusui Junmai Ginjo pairs exceptionally well with a variety of Western ingredients, from seafoods to cheese, even smoked flavored foods.
SMOKED SALMON WITH GOAT CHEESE
<two servings>
Cut 2-oz goat cheese into 4 pieces. Lay flat 4 slices smoked salmon, place a piece of cheese in center, then roll into a rosette. Place 4 dollops of orange marmalade on a plate, about 1 teaspoon each. Arrange rosettes on top, sprinkle with toasted sliced almonds, garnish with a spring of chive, and serve.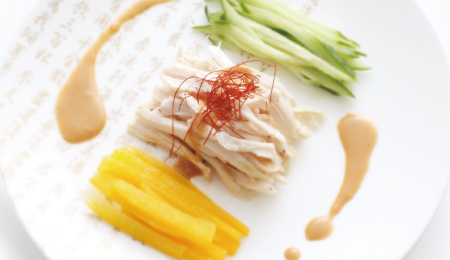 CHINESE
Explore new parings with simple flavored seafood and chicken dishes.
BAN-BAN-JII(Bang Bang Sesame Chicken)
<two servings>
Set steamer:add water and heat. Pat dry and season 1 medium chicken breast with salt and pepper. Cut green top from a green onion into two inch pieces and place on chicken. Thinly slice ¼" chunk fresh ginger and place on chicken. Place chicken with vegetables into steamer, sprinkle 1 Tablespoon Kikusui Junmai Ginjo, and steam for 5 minutes. Add ½ green pepper sliced into ¼" slices on top of chicken, and continue steaming 5 additional minutes. Carefully remove chicken from steamer, let cool a bit, then place in refrigerator until completely cool. By hand, shred chicken into long, thin shreds. Arrange on plate, thinly sliced cucumbers, fresh yellow pepper slices, and shredded chicken. Mix together: 1 Tablespoon sugar, 1 Tablespoon rice vinegar, 3 Tablespoons soy sauce, 1 teaspoon fresh ginger finely minced, white portion of one green onion finely chopped, 2 Tablespoons white sesame paste ( or Tahini, or peanut butter ), 2 teaspoons Asian toasted sesame oil, 2 teaspoons chili oil ( optional ). Drizzle mixture over chicken and serve.